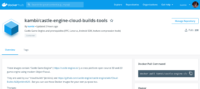 We have a Docker image that you can use to easily get Castle Game Engine along with prerequisites (like FPC with various cross-compilers): kambi/castle-engine-cloud-builds-tools image on Docker hub .
If you're new to Docker, I wrote a nice description how to use Docker with CGE. Basically, instead of installing CGE, FPC, Android SDK/NDK… you can just get a Docker image.
(P.S. Wow, last 2 months were exhausting. I have a ton of news about CGE for you, and will publish them in the upcoming days
).